There's nothing quite like enjoying a good book or having a picnic from the comfort of your own backyard. However, one thing that can really detract from that enjoyment is an overgrown tree with branches hanging over your roof or growing too close to the power lines. Not only can an overgrown tree block sunlight and make your yard look cluttered, but it can also be dangerous if left unattended. Whether your trees need a light trim or a comprehensive overhaul, you've undoubtedly asked yourself, where can I find reliable tree trimming near me?
Tree trimming is an integral part of home maintenance, and it's something that should be regularly scheduled, much like mowing your lawn or changing the oil in your car. But since all tree trimming services are not created equal, it isn't always easy to know who you can trust and believe in. While this uncertainty may tempt you to trim the trees yourself, you could potentially end up doing your tree more harm than good if you're unfamiliar with proper procedures and equipment.
Thankfully, you can do a few things to ensure that you're hiring the services of a quality tree trimming company in your area. Read on to discover key tips to improve your search for tree trimming near me.
Searching for reputable tree trimming near you? Tree Time Atlanta provides best-in-class tree trimming services to help you maintain the yard of your dreams.
6 key tips to narrow your search for tree trimming near me
1. Utilize the internet to your advantage
The internet is your first resource for a wealth of information regarding tree trimming services in your area. Beyond the basics of what services they offer, a company's website also gives you the opportunity to evaluate their core values – as well as customer reviews. This kind of information allows you to be selective when choosing companies as potential options for hire and enhances your search for tree trimming near me.
2. Get opinions from others
Whether it's your relatives, friends, colleagues, or neighbors, you can simply ask about the tree trimming company they use to maintain the lawns and gardens at their homes. Satisfied customers are generally a company's best form of advertising, and most of them don't mind providing details about the quality of performance and reliability. You can also inquire about the services offered and the prices incurred on the tree trimming process. If the reviews and feedback you get are positive, gather contact data about these companies and get in touch for potential tree trimming work at your property.
3. Conduct your own background research
Conducting your own background research on a tree trimming company gives you information about how they connect with the local community as well as the quality of services they provide. A top-performing company has a great reputation both online and within the professional community. Look up their Google reviews to see how other homeowners feel about their quality of work and respect for the environment, given the genuine importance of trees. Such efforts will allow you to efficiently manage your resources and ensure exceptional professionalism from them.
4. Check the insurance policies
As a responsible homeowner, you must check the insurance policies of a tree trimming company first and foremost. When a professional company is bonded and insured, they assume the liability to cover restoration and other costs if there is an accident while tree trimming. Conversely, if they don't have the proper insurance, you become responsible for any costs associated with unexpected events. Keep yourself covered and insist that the company you choose is properly bonded and insured.
5. Obtain multiple price quotes
As you search for answers online regarding reputable tree trimming near me, you may also be asking yourself how you can get the best possible price for these services. That's when you should obtain price quotes from multiple companies that you potentially earmarked for tree trimming. It will give you a good idea about fair price points for provided services. If you happen to find yourself in a situation wherein the company's prices seem altogether too low (or too high), eliminate these companies from contention with full knowledge that in almost every case, you get what you pay for.
6. Compare the services offered
Once you have considered all the price quotes for tree trimming, the next thing you should do is compare the range of services a company can provide. One of the most critical considerations in trimming a tree is the arrangement made by the company regarding the proper disposal of branches. Some might simply let the branches fall on the ground, while others might rig and bring down the branches using ropes, blocks, winches, pulleys, etc.
This can help you understand which company is more skillful and committed to the cause – potentially the best fit for you to hire for tree trimming at your home. You can also check if companies provide extra benefits as part of their services, especially when their quotes are nearly identical. For example, a company might give free mulch as part of its tree trimming service.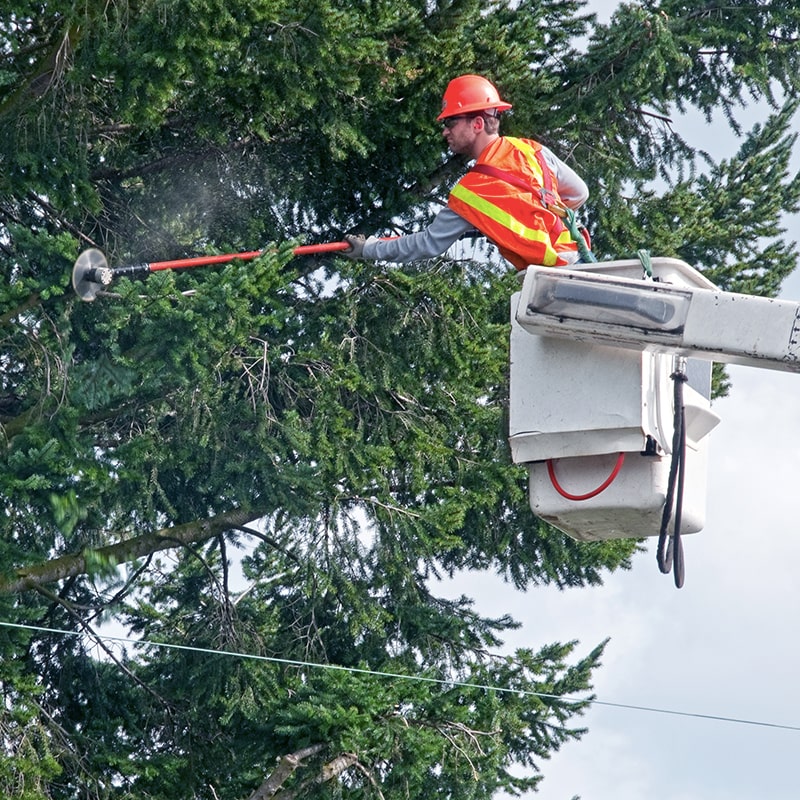 Hiring the right company from your tree trimming near me search
After thoroughly looking over and analyzing several tree trimming companies, you will be able to find the right answers to your search for tree trimming near me. It would be best for you to rely on these tips regarding which company to trust rather than focusing solely on the price. At Tree Time Atlanta, we have served satisfied clients throughout Gwinnett, Walton, and the surrounding areas by providing industry-leading tree care and maintenance services for years. You can get a quote for your tree trimming from us today by clicking here.