If you're like most homeowners, you probably enjoy spending time in your backyard. But sometimes trees get too big, and they start to obscure the sunlight, making it difficult for you to enjoy the outdoor surroundings of your property. It might seem like a simple annoyance at first, but overgrown trees can cause all sorts of problems. Not to mention, they look plain ugly! If they're your trees, you can get it handled. If they belong to the house next door, you may find yourself wondering, how do I tell my neighbor to trim his trees?
If you're unlucky enough to have a neighbor with those overgrown trees, your enjoyment of the outdoors may be marred by all the leaves and branches that fall on your property. Neighbors can sometimes be difficult to deal with, especially when it comes to trimming trees. Telling your neighbor that his landscaping could use some work can be a tough thing to do tactfully. So if you're at your wit's end and don't know how to do it, read on. We'll give you some tips that should help you tell your neighbor to trim his trees without creating any hard feelings and preventing any undue inconvenience.
Looking to tell your neighbor to trim his trees? Start by suggesting a customized tree trimming plan from Tree Time Atlanta today.
Important tips to tell your neighbor to trim his trees
1. Understand the legal aspects first
Prior to telling your neighbor about how his overgrown trees are becoming a problem for you, it's vital to understand the legal aspects first. When you have a fair idea about the law and your rights, you can discuss the potential solutions in a reasonable manner with your neighbor.
If required, you can escalate the situation through the HOA, local code enforcement, or even the court system. Furthermore, don't ever decide to take matters into your own hands without your neighbor's approval. If he is very protective of his tree, the matter could get out of hand very quickly in a legal sense. That's why it's in your best interests to be courteous and straightforward in handling this problem of overgrown trees within the parameters of the law.
Once you understand these legal aspects, then the question of how do I tell my neighbor to trim his trees becomes easier to approach.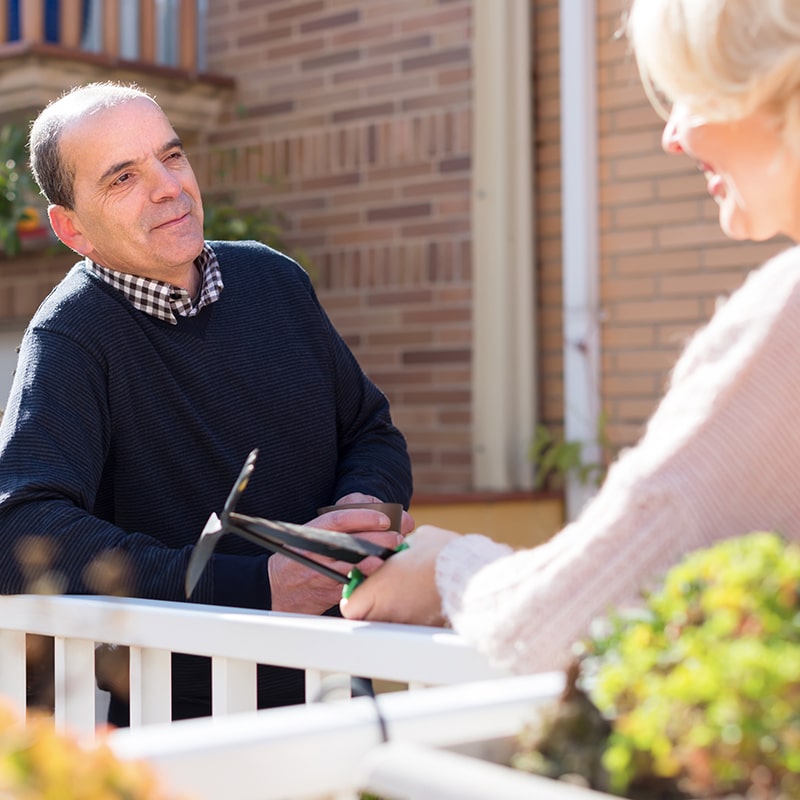 2. Speak informally with your neighbor
When you have overgrown trees encroaching your property from the neighbor's side, you should approach your neighbor and speak informally with him about this problem. Remember that Howard E. Koch, a famous playwright and screenwriter, once said, "you can be a good neighbor only if you have good neighbors." So it would be best if you tried to be a good neighbor yourself first and discuss the problem with your neighbor to carve out a possible solution. Here are some ideas:
Suggest your neighbor trim his trees
Trimming the trees is a manageable and not a drastic measure, so you can politely suggest it to your neighbor. When you speak informally about it with your neighbor, you can usually reach an agreement for trimming the overgrown trees effortlessly. Also, it will ensure that you avoid any potential misunderstandings and disputes regarding the overgrown trees with your neighbor for the foreseeable future. You may even offer to do the trimming yourself.
Offer to pay for your neighbor's tree trimming
In case your neighbor is reluctant to trim his overgrown trees, it may be because he doesn't want to spend any money on tree trimming at that particular time. That's when you may want to offer to pay for your neighbor's tree trimming in good faith. Your neighbor may appreciate the gesture and agree or feel social pressure into handling the matter himself.
3. Write a formal letter to your neighbor
Suppose your neighbor does not cooperate with your suggestions regarding his overgrown trees. In that case, there are other viable options available for you to explore, like writing a formal letter to communicate with your neighbor. In this stronger approach, you can write about the crux of the situation and how you want to see it resolved as early as possible. Ensure that the letter is clear, polite, precise, and to the point in its content. Use the help of an online website that provides the service of letter writing if you aren't sure how to approach it.
4. Get in touch with a lawyer
At times, there might occur a situation where your neighbor is not willing to listen to you or act on your formal letter. In this case, the answer to how do I tell my neighbor to trim his trees is that you don't – you have someone else do it. At that point, you can get in touch with a lawyer to exercise your lawful rights. They will assist you by drafting an impactful and effective formal letter, including the details about the neighbor's overgrown tree encroaching your property, the damage it has caused if any, your fears regarding it, and the potential solutions.
A lawyer will, in all likelihood, help you find the right settlement to resolve this problem for good. Generally, a letter from an attorney will compel your neighbor to take care of business.
What's the best solution to this overgrown tree problem?
Even though you have legal options available, making an informal compromise with your neighbor is the best answer to the question, how do I tell my neighbor to trim his trees? To accomplish this, you should keep the option of speaking with your neighbor open at all times. If he agrees with your suggestions, you can help him create a plan to trim his overgrown trees by letting him know about tree trimming companies in the area. Tree Time Atlanta provides tree trimming services tailor-made to your needs – or those of your neighbor. Connect with us today to get a quote for a tree trimming plan.